RAF Waddington International Airshow bookings 'up'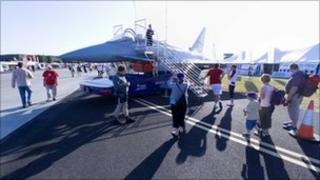 Organisers of the Waddington International Airshow have said that bookings are up for this year's event in July compared with last year.
Held each year at RAF Waddington, near Lincoln, the show attracts more than 100,000 people over two days.
This year's show will run from 2-3 July, organisers said.
Airshow director Paul Sall said the success of the show last year meant people were keen to return to RAF Waddington.
"The success of last year's airshow has really spawned the interest of our visitors. Tickets sales are looking particularly good for this time of year," he said.
"Our main publicity campaign begins in about six weeks' time so we expect things to get hot pretty quickly."
The airshow team recently confirmed it had signed up the US Air Force display team, the Thunderbirds, who were last at the airshow 11 years ago.
Other confirmed bookings include the Battle of Britain Memorial Flight, the Red Arrows and the B17, a vintage World War II USAF bomber.
Mr Sall also said he was in talks to show the Vulcan Bomber.
"We're already in deep discussion with the Vulcan operating company. With Waddington being the spiritual home of the Vulcan for so many years, we expect to be able to announce its attendance at the show."