Lincoln people consulted over city CCTV switch-off plan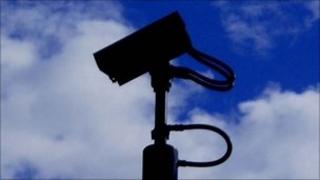 A month-long public consultation into the future of Lincoln's CCTV system has begun with residents, businesses and visitors asked for their comments.
City of Lincoln Council, which funds the 24-hour monitored cameras at a cost of £434,000 a year, is considering switching them off to save money.
The Conservative-led council needs to save £2.25m by 2013-14 following the government's spending review.
The survey can be completed online and a decision is expected in the summer.
Police evidence
Leader of the council Darren Grice said: "We know people have very passionate opinions about CCTV, but we want to take a realistic look at the service and ask how important is CCTV to our residents.
"This is about having a proper debate that will help inform any final decisions about what we do with the service in the future."
The staffed CCTV control room receives images from 133 council and third party-owned cameras, as well as audio signals from 200 radios around the city.
Recordings are used as evidence by the police and other enforcement agencies and live incidents and images can be tracked and recorded with control room staff able to communicate directly with Lincolnshire Police to report incidents.
The council has said it is considering five options as part of the review, including switching CCTV off completely, reducing the service or transferring it to another provider.