Man completes Lincoln leg of ultra-marathon challenge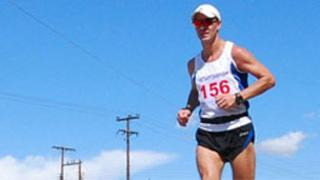 A businessmen trying to run 66 ultra-marathons in 66 days has completed the Lincoln leg of his Guinness World Record bid.
Andy McMenemy is aiming to run 50km (31 miles) in each of the UK's 66 cities for the Soldiers' Charity, which supports armed forces personnel.
His target is to raise £1m. So far he has completed six ultra-marathons and raised more than £18,000.
Mr McMenemy said he was taking the challenge "one day at a time".
"I think of it like doing manual labour for six hours a day," he said.
"I think about people like Ben Parkinson, who was described by medical experts as the most wounded soldier to survive his injuries.
"He has to do six hours of physiotherapy every day just to be able to use his new legs.
"If Ben can do that surely I can go out and run for six hours a day."
A conventional marathon is just over 26 miles (42km).