Sibsey poultry farm Moy Park fined for chicken smells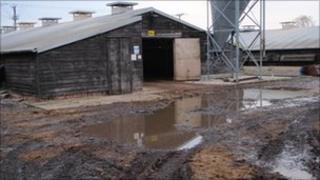 A Lincolnshire poultry farm has been fined for allowing "nauseating" smells to affect nearby residents.
Moy Park Ltd pleaded guilty at Boston Magistrates' Court to failing to comply with an environmental permit.
The court heard the poultry unit at Sibsey, Boston had failed to follow odour management plans in 2009.
The company was fined £30,000, following the Environment Agency prosecution, and ordered to pay full costs of the hearing on Wednesday.
'Nauseating smell'
The court heard that Moy Park held an environmental permit authorising intensive poultry rearing of up to 200,500 broiler birds on a 35 to 37-day cycle.
The permit contained conditions to protect the environment and local communities.
Magistrates were told the company had failed to follow advice given by the agency and did not follow guidance on odour management, meaning residents were affected for several months.
Residents gave witness statements to the Environment Agency which described the smell as "nauseating" and said it had stopped them using their gardens.
They were unable to hang out washing, had to re-wash clothes and could not open their windows. People had stopped visiting them and those who did complained, the court was told.
'Worked closely'
Moy Park said it regretted the impact on residents and the site had been closed and sold at the end of 2009.
The court heard Environment Agency officers paid several visits to the site and saw a number of issues that would contribute to odours.
Area manager Simon Mitchell said: "Moy Park has worked closely with the Environment Agency to ensure compliance with its permit conditions and to improve its environmental performance at its poultry farms in Lincolnshire with the aim of reducing the risks of such incidents happening in the future.
"The company is investing in new plant and working methods to significantly reduce the risk of such incidents happening again."