Nocton farmers scrap future plans for 'super dairy'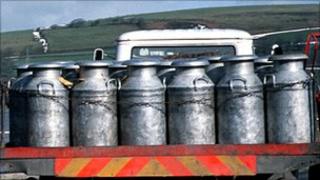 The farmers behind a bid to build a 'super dairy' in Lincolnshire have confirmed they have abandoned their plans.
Nocton Dairies Ltd withdrew an application for a 3,770 cow dairy on Nocton Heath in February following concerns from the Environment Agency.
On Thursday directors David Barnes and Peter Willes issued a statement saying they had no further plans for a dairy.
The statement said arable farming will continue on the land, near Lincoln.
Nocton Dairies Ltd had originally wanted to house about 8,000 animals on the site but halved the number after pressure from welfare, environmental and local groups.
'No further application'
But the Environment Agency said it still had concerns about the effect the dairy may have on ground water quality nearby and North Kesteven District Council indicated it would refuse the application and refer it to the government.
After withdrawing the plans Mr Barnes and Mr Willes said they were taking time to consider their options and would not be selling the land.
The directors' statement said: "When the application for the dairy was withdrawn, we did not know what the next steps would be, there was no Plan "B".
"Since then we have had further meetings with the Environment Agency and council to find out what the options are.
"While none of us knows how circumstances or technology might change in the future, we can confidently say that there is no intention to submit any further application for a dairy farm on the heath."