Lincolnshire lay-by trader's plea over closed toilets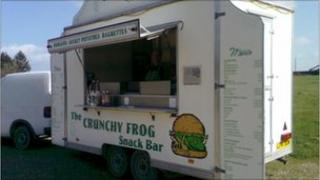 A trader on a Lincolnshire tourist route says the area in which she operates is a "complete disgrace" since local toilets closed.
Heather Smith, who runs a snack bar on the A158, said since the toilets shut more than a month ago people were "spending a penny" nearby.
She said the smell was putting people off stopping at the site, which is between Lincoln and Skegness.
The county council said the toilets were prone to anti-social problems.
The authority is considering re-opening the toilets during the day, as the earlier problems were at night.
But said it had to take into account the remote location and concerns about the safety of people using them.
'Disgusting smell'
Mrs Smith said: "People have been using the outside of the toilet block as a urinal and the smell is disgusting.
"The bins are overflowing with nappies and the rubbish on the site is really putting people off.
"The whole lay-by is a complete disgrace."
A spokesperson for West Lindsey District Council, which is responsible for emptying the bins on the site, said they were aware of a fly-tipping problem and was visiting the area to see what could be done.
Mrs Smith said the road was extremely busy in the summer with lots of caravans heading for Skegness.
"These toilets have been here for a long time and people from further afield know them as a place to stop on their way to the coast," she said.