Skegness fire site 'damaging holiday resort's image'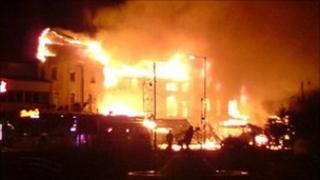 A derelict building site is damaging the image of a Lincolnshire holiday resort, according to the local council.
A large part of Skegness's seafront Grand Parade was destroyed in a fire in August 2007.
East Lindsey District Council granted permission for a new leisure complex in early 2010 and said it was important the prime location was filled quickly.
The site's owner, businessman Taj Bowler, said work should start soon but legal issues had to be resolved.
The council said the site, which was surrounded by fences and hoarding, looked neglected.
It also pointed out another part of the same site, along with a separate property affected by a later fire, had already been redeveloped.
'Incredibly frustrated'
James Gilbert, from the authority, said: "It doesn't look great at the moment at all.
"Planning permission has been granted and we really want the developer to get on with this development as quickly has possible for the benefit of the town.
"We are incredibly frustrated - this site has been vacant for three-and-a-half years now and we want to see it redeveloped as quickly as possible for the economic benefit of Skegness.
"We want jobs for local people, we want opportunities and this site can bring those."
Mr Bowler declined to give an interview but told the BBC he was also disappointed with the delays. He said finances to complete the project were in place.
He confirmed he hoped to start work after the summer season had finished.