Smartphone app offers Lincolnshire's bikers safety tips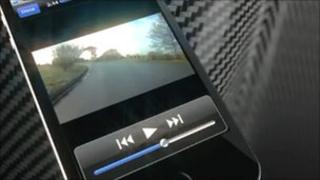 A new smartphone app has been designed to help to reduce the number of motorcyclists killed or injured on Lincolnshire's roads.
iBiker will feature a series of rider's eye-view videos with commentary and information about accident blackspots.
Designer Gurminder Marwaha, said: "The app highlights potentially dangerous roads and routes to bikers".
The video tutorials are being filmed by expert riders from the Lincolnshire Road Safety Partnership.
Partnership spokesman John Siddle said: "We consider this to be one of the most innovative schemes providing good information to help bikers remain safe on the road.
"By providing advanced information about a potential danger area on the road, as well as where the good stop-off points are, will make the biking experience even better," he said.
'Dangerous roads'
"The commentary on the app will point out danger spots, with information on accidents and deaths at a particular location and point out any particularly nasty bends that might catch a non-local rider out.
"Lincolnshire is a top destination for bikers, with hundreds visiting the county every weekend.
"Our rural roads seem to attract some high speed issues and some bikers we categorise as high end offenders," said Mr Siddle.
Mr Marwaha, said "We've used data from The Road Safety Foundation to create videos of roads in Britain where we know bikers get killed or seriously injured.
"Bikers can also rate routes and share all the information on social networking sites," he said.
In 2010 10 motorcyclists or pillion passengers were killed on Lincolnshire roads and 106 people were seriously injured in motorcycle-related collisions.
Sgt Chris Dennett of Lincolnshire Police said: "We welcome careful and considerate bikers to the county.
"But the small minority who wilfully ride at excessive speed, cause nuisance and represent a danger, will be targeted."