Lincolnshire school builds eco-greenhouse from bottles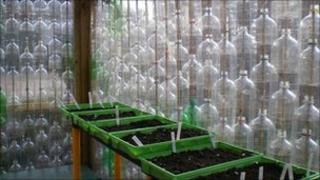 Schoolchildren in Lincolnshire have built their own eco-friendly greenhouse made from plastic bottles.
Pupils from Queen Elizabeth's High School in Gainsborough collected 2,000 bottles over six months to make the structure.
The idea started in 2009 as part of the Healthy Schools programme, a Department for Education initiative that promotes healthy eating.
The aim was to encourage children to grow their own vegetables.
Home grown
Student support officer Charlene Barker said: "Students wanted to have their own area where they could grow vegetables.
"We hope that we can now grow enough to supply some for use in the school canteen.
"We are really pleased with the greenhouse - it's worked better than we had hoped."
Fifteen-year-old Millie Broadbent, who worked on the project, said: "It's good that lots of people from the school got involved with the garden project."
The school garden, complete with eco-greenhouse and raised-beds, was opened by Julia Kendall from the BBC's DIY SOS programme.