Lincolnshire worshippers raise money for African church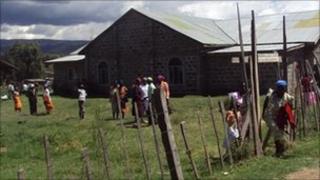 Fund-raisers from one of Lincolnshire's smallest churches have raised "thousands of pounds" to help build a new church in a remote African village.
St Andrew's in Stewton near Louth has an average congregation of 20 people, and seats 40 when full.
The local community has raised the money to pay towards the cost of the church built in Wiyumiririe, Kenya.
Churchgoer Jane Rushby said "the Kenyan church is about six times bigger than our little church in Stewton".
"We started fund-raising after a visit to Wiyumiririe in 1996 and have managed to raise several thousands of pounds.
"The church at that time was just a little wooden hut with a tin roof and the local people wanted to build something better to replace it," she said.
"The church has taken several years to build because of an ongoing drought and the need for the local people to work elsewhere to get enough food to feed their families.
"When the church finally opened it was amazing to see hundreds of people walking from the outback to worship in the new building. The people in Kenya can't comprehend why our congregations are so small."
The fund-raisers from St Andrew's are now raising money to build an orphanage in the village for children whose parents have died of Aids.