Lincolnshire's River Witham users disrupted by vandals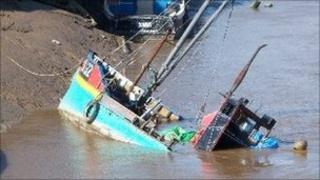 Vandals have targeted a boat on a Lincolnshire river for a third time, causing disruption to river users.
The 25ft shrimp boat was moored on the bank of the River Witham, close to the end of Pulvertoft Lane, Boston, when its ropes were deliberately cut.
Police said the damage caused the boat to drift out into the river, catch on a mud bank and sink.
Pc Sarah Roberts said: "This was the third time in 12 days that the ropes mooring it have been cut."
"On this occasion, due to the position of the stranded boat, all traffic along the river at this stretch had to be stopped until the boat could be salvaged causing considerable disruption and inconvenience".
Lincolnshire Police has appealed for any witnesses to the incident, which happened between 1730 BST and 2200 BST on Sunday, to contact them.