Dry weather sees increased number of grassland fires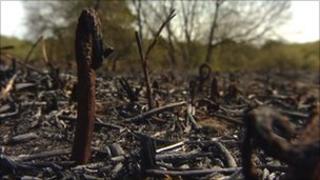 Firefighters in Lincolnshire dealt with a significantly increased number of grassland fires over the four-day bank holiday.
Fire crews dealt with 19 incidents this year compared with only five in the same period in 2010.
Sean Taylor, from Lincolnshire Fire and Rescue, said the dry weather had led to the sharp rise in the fires.
He said a small breeze could spread a fire quickly with "devastating results".
"It can quickly surpass what people thought was a small fire and quite easily involve farm equipment and buildings.
"Apart from the huge damage to wildlife, there's a financial cost too," he said.
"Some of the fires are started accidentally by carelessly discarded smoking materials and unfortunately a lot of them are started deliberately.
"We've got some beautiful countryside in Lincolnshire and during the dry weather we have to be extra careful."