Couple flee 'motiveless' arson attacks in Lincolnshire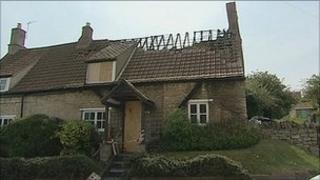 The motive for four arson attacks on an elderly Lincolnshire couple is still unclear, police have said.
The attacks began last August but the latest, on Wednesday, destroyed Peter and Sylvia Cox's home in Castle Bytham near Grantham.
The couple, aged 82 and 74, were alerted by their dog and investigators said they were lucky to get out unhurt.
Detectives said the family, who have been moved to a secret location, had no idea why it was happening.
Det Insp David Swan, from Lincolnshire Police, said: "The occupants managed to get out without being seriously injured but obviously the potential was there for them to be seriously injured or worse.
"The family at this time are not able to give us any indication as to why they have been targeted in this manner."
Villager Della Mellows said: "People are really quite scared because they wonder why no one seems to have any knowledge of why this has happened.
"And it is not the first time, it is the fourth - so people are feeling a little bit scared."
Police have appealed for anyone with information to come forward.