Cyclist sought over arson 'campaign' against couple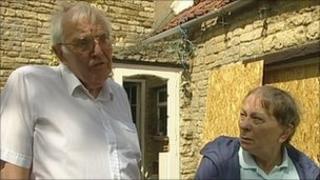 Police investigating a series of arson attacks at an elderly Lincolnshire couple's home say they want to trace a cyclist seen in the area.
Peter and Sylvia Cox, 82 and 74, were moved to a secret location after the latest attack badly damaged their 17th Century cottage.
The victims are "baffled" about why someone would want to hurt them.
Detectives have now said a person on a racer-style bike was seen near the house at the time of the 4 May arson.
The suspect, who was wearing a backpack, was spotted in the High Street area of Castle Bytham in the early hours.
Det Insp Dave Swan, of Lincolnshire Police, said: "We need to trace this person as soon as possible.
"We are calling on anyone who was in or around the village in the early hours of the 4th, who may have seen the person on the bike, or who thinks they can identify him or her, to get in touch with us as soon as possible.
"A huge amount of work is being done to trace the offender by a dedicated team of detectives.
"At this stage we have no reason to believe that anyone else in the village or the surrounding area is at risk."
Mrs and Mrs Cox were alerted by the barking of their greyhound Toby after ignited material was put through the letterbox.
They escaped from an upstairs window and were treated for smoke inhalation, but their dog died.
The three previous attacks at the house took place in August, October and March, said police.