Biker death mother makes Lincolnshire road safety plea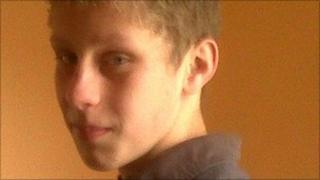 The mother of a motorcyclist killed in a crash in Lincolnshire has voiced concerns about road safety in the county.
Jean-Baptiste Van Spyk, 18, from Donington, died after a collision at Scredington on 5 November 2010.
His mother, Emma Van Spyk, has also called for better public transport in rural areas.
Ben Burrows, 21, from Sleaford, admitted causing the death by careless driving at a court hearing on Monday.
"The level of driving around the roads in Lincolnshire right across the age groups and across the social barriers is very risky", said Ms Van Spyk.
"I'm just asking those in places of responsibility to look at the whole picture.
"We're entering a time when insuring a car for a young person is amazing, the cost of learning to drive is expensive and you've got the rising cost of petrol... everything is going up."
Ms Van Spyk said she was worried about the safety of young people because of the lack of public transport.
"We might in fact see more and more small vehicles and potentially quite dangerous vehicles on the roads because there's no alternative," she said.
Burrows will be sentenced at a later date.