Lincolnshire Domesday records made public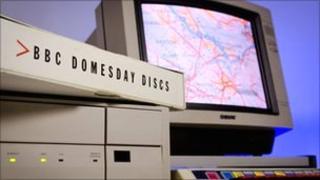 Accounts of what life was like in Lincolnshire in 1986 are being made public for the first time as part of the BBC's Domesday Reloaded project.
Twenty five years ago schools and other groups helped to paint a picture of life in Britain at the time.
The BBC, inspired by the Domesday book commissioned by William the Conqueror, asked people "to capture and record the life and landscape in their area".
The original information and pictures have now been published online.
Domesday Reloaded
Back in the 1980s, the BBC divided an Ordnance Survey map of the UK into 3km by 4km rectangles, called D-blocks.
The aim was for the data, which could be read on 'Domesday machines' (BBC Micro computers) to be made available to every school, library and university in the UK.
The BBC have now launched Domesday Reloaded, using the same grid system, and are asking the public to help create a picture of Britain in 2011.
This can all be done via the Domesday Reloaded website or by emailing domesday@bbc.co.uk - All new material will be preserved for future generations at The National Archives in Kew.
By exploring the images and articles from the original project you will be able to see how much has changed in Lincolnshire, and how much has stayed the same.
Snapshot of Lincolnshire in 1986