Public support for CCTV cameras in Lincoln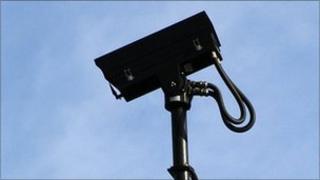 A public consultation has shown that 92% of people in Lincoln are in favour of keeping CCTV running.
The City of Lincoln Council had previously said the system of 133 cameras was too expensive to run.
The council's new leader, Ric Metcalfe, said the "overwhelming majority" of residents, police and businesses had made it clear they want the cameras.
The council is now considering a reduced service with cameras switched off during the quieter times of day.
A council spokesperson said there was "no definite decision" on the future of the cameras or how they would be funded.
Money saving
The Labour-run City of Lincoln Council funds the 24-hour monitored cameras at a cost of £434,000 a year.
Residents and businesses had previously been warned that CCTV could be switched off to save money.
Artist John Pooley's gallery window in Lincoln was smashed by vandals earlier this month and he said CCTV could be vital in finding those responsible.
"If these people are going to get caught and punished, of course I believe we should have more security and more police.
"The idea of doing away with cameras and cutting down on the police is crazy when there seems to be more crime on the streets."
In North Kesteven district, there are 12 cameras in Sleaford and North Hykeham. The authority has also announced plans to switch the system off to save money.
Officials have said they will hold talks with the police to try to reduce costs so the system can continue operating.