Lincolnshire Police crack down on metal detector crimes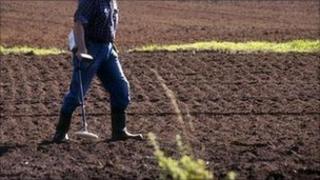 Some metal detector enthusiasts are using the cover of darkness to plunder farmers' fields, police have said.
The practice is called nighthawking and is when people do not have permission to be on the fields and do not report any finds.
This has led Lincolnshire Police to start an operation aimed at tackling the problem.
Police said illegal metal detecting was part of a wider problem called heritage crime.
Heritage crime includes offences such as architectural and metal theft, criminal damage, illegal metal detecting or nighthawking, graffiti, vehicle nuisance and arson within historic environments.
'Cover of darkness'
Sgt Ali Booth, from Lincolnshire Police, said: "Because of the important wealth of Roman and Saxon history in this area, the Wolds are particularly attractive and offenders will come here from far afield to plunder.
"The damage caused to crops can be considerable, which greatly affects our farmers' livelihoods and the safety of farm workers."
The finds liaison officer at Lincolnshire County Council, Adam Daubney, said: "While the majority of metal detector users enjoy their hobby responsibly, there is a minority who search without permission, often under the cover of darkness.
"This nighthawking can not only damage archaeological sites but robs us all of our history.
"This is because items found are often sold on rather than being recorded with the relevant body, meaning we don't get a chance to learn from the find."
On the subject of nighthawking, metal detector enthusiast John Byford said: "We're certainly against it but this is a very small minority. I belong to a club and we always make sure we have permission."
Church thefts
Churches are also targets for thieves as the Archdeacon of Lincoln, The Venerable Tim Barker, explained.
"The biggest problem is the theft of lead from church roofs," he said.
"It's certainly increasing insurance premiums and the main insurance company for churches has had so many claims that they no longer cover the loss of metal."
Lincolnshire's Chief Constable, Richard Crompton, the Association of Chief Police Officers (ACPO) lead for heritage crimes, said it was difficult to trace the thieves after they have sold the metal on.
"At the moment for criminal dealers metal can be bought for cash and precious little, if any, records are kept," he said.
"We are working with a range of different organisations trying to encourage new legislation which will enable us to clamp down more strongly on these unscrupulous metal dealers."