Cash for gold scheme pays for church roof repairs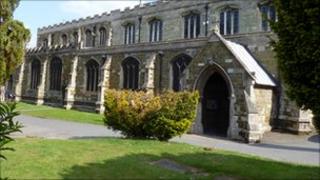 A Lincolnshire church is asking people to donate their old gold and silver so it can buy lead to repair its roof.
St Mary's Church in Horncastle has installed a secure collection box where people can leave old earrings, necklaces and trinkets.
The church has already collected gold worth more than £1,250 and silver worth £250.
Organiser Bob Wayne said the idea came from seeing adverts on daytime television.
Cash for gold
"Anybody who is retired and watches daytime television will see these people begging you to send your gold away to them.
"It was obvious to see there was money in it.
"We thought if we made it easy for people they would come up with the goods.
"The Lady Chapel is the last part of the church roof in need of repair and hopefully when it's complete we will be in good shape for the next 100 years."