Council group to examine link between coal and cancer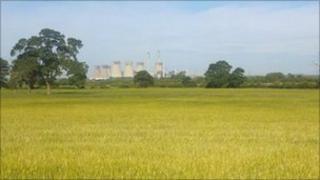 A Lincolnshire council has set-up a working group to see if there is a link between coal-fired power stations and local cancer rates.
West Lindsey District Council will focus its study on Gainsborough, a town located near two coal-fired stations.
The council said it is looking at the issue after it was raised by local councillor Chris Underwood-Frost.
Mr Underwood-Frost, who has cancer, said "the disease seems to be very prevalent" in the area.
He said: "I asked the question after a lot of people told me about people they know with the disease - it seems there are an incredible amount of cases in the area.
"It was an article in Focus magazine that asked the question about whether coal-fired power stations produce radioactive waste - and the first word in the article was 'yes'," he said.
'Dirty fuel'
"That's why I've set-up a group to see if there is anything over and above the national average and to see if there is a way we can actually tackle it.
"This isn't just about coal-fired power stations - it is about pollutants in general."
Ed Yong, head of health evidence and information at Cancer Research UK, said the evidence on coal-fired power stations and cancer was "pretty much up in the air".
"But we know that coal is a pretty dirty fuel and we know that burning it chucks pollutants and other impurities into the air," he said.
"People talk about cancer clusters all the time but real cancer clusters tend to be really rare.
"Trying to work out if these cases are caused by something in the environment, power station or not, is incredibly difficult - cancer is sadly a really common disease that affects one in three people."