Welcome sign stolen from Lincolnshire market town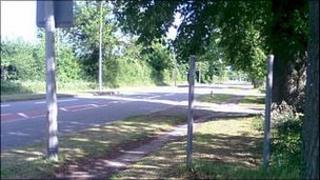 A decorative road sign welcoming visitors to a Lincolnshire market town has been stolen.
The sign, which marked the boundary between Lea village and Gainsborough, is thought to be worth up to £300.
Steve Whiles, from Lincolnshire County Council, said the sign had been taken even though it had been fitted with vandal-proof nuts and bolts.
He said the theft of metal for its scrap value was a "serious issue" across the county.
"The cost must run to thousands of pounds for iron work and metal that are taken for scrap value," said Mr Whiles.
"The sign was probably worth between £200-£300 but I think this could have been taken as more of a collector's item."
He said talks would now take place with Gainsborough Town Council in the hope of replacing it and using securer fixings.