Two men injured in Lincoln crash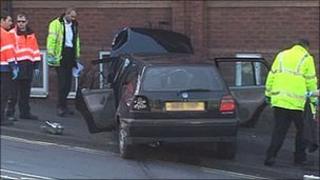 Police are investigating after two men were seriously injured when a car left the road and hit two walls in Lincoln.
The crash happened on Lindum Hill early on Friday.
A 31-year-old man remains in a serious but stable condition at Queen's Medical Centre in Nottingham while a 20-year-old man is in Lincoln County Hospital with serious injuries.
A Lincolnshire police spokesman said they were appealing for witnesses.
A 44-year-old man who was not seriously injured was also in the black VW Golf, but police said more people, who left the scene after the accident, may have been travelling in the vehicle.
Police are appealing for those people to come forward and for anyone with any information on who they might be to get in touch with them as soon as possible.
Officers are also trying to establish the movements of the car before the collision.