Toilet dumped at unofficial 'pee stop' in Lincolnshire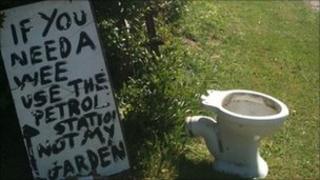 Pranksters have dumped an old toilet next to a roadside sign telling passing tourists not to use the area as a "pee stop".
The sign near Partney on the A158 between Lincoln and Skegness was erected by residents to deter people from stopping in the area.
Resident Penny Wright said tourists often mistook the land near her house for a lay-by.
She said the toilet had appeared at some point in the night.
'Travel sick'
"I woke up this morning to find that someone had stuck a toilet next to the sign - they had obviously seen the funny side of it.
"My first reaction was to put some flowers in the bowl," she said.
"The problem of people stopping hasn't been too bad since the sign was erected and we put cones along the side of the road.
"But we used to get coaches pulling in, travel sick kids and all sorts of people going to the loo here.
"It wouldn't be so bad - but there is a garage down the road with everything you could possibly need."