St Bede's Catholic Science College in Boston to close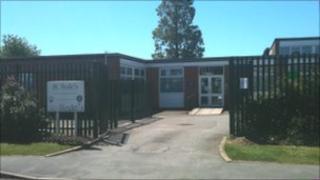 A Lincolnshire school identified as one of the worst performing in the country is to close at the end of term following a vote by the county council.
The 350-pupil St Bede's Catholic Science College in Boston will become part of Haven High Technology College from September.
A run of poor exam results saw the government name it as the second worst performing school in England in 2008.
In May, a report by council education officials recommended it be closed.
The school's exam results improved in 2009, but this was followed by a decline in 2010.
The decision comes after Lincolnshire County Council was handed a 700-name petition urging it to keep St Bede's open.
The council said the changes would retain the number of secondary school places in Boston while improving educational standards.
'Difficult situation'
Parent Mike Sheridan-Shinn said: "There are a lot of low income families in this town and unless you've got the money to take your kids out of town, there's now only one choice - Haven High."
St Bede's had already been twinned with Haven High in a "federation", with head teacher Adrian Reed taking charge of both schools.
He said: "It's always a difficult situation for parents and staff when a proposal is going ahead to close a school and we've had to make sure all of other stakeholders - our children, our parents, our staff - can see the benefits which will be brought by working together in a partnership."
Mr Reed said the vast majority of staff at St Bede's would be able to continue in the same roles and extra staff had been taken on to widen the curriculum.