Lincoln man's bid to set a new world record for rowing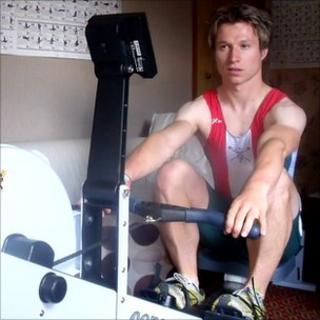 A Lincoln man is planning to set a new world record for rowing continuously for over 30 hours on a rowing machine.
Chris Farrell is hoping to raise money for Kidney Research UK and for the Lincoln Rowing Centre, of which he is a member.
His family have suffered with hereditary kidney disease which is why he is raising funds for the charity.
The current record holder is Dave Holby from Basingstoke who Mr Farrell hopes to beat by 10 hours.
He said: "I'm trying to break the current record which is currently 30 hours so I'm aiming to go for 40 or above depending how my body is going.
'Strict regime'
"There's two world records. A heavy weight and a light weight. The heavy weight has just been broken again in May and is 77 hours.
"What I'm aiming to do is the 20 to 29 age group, light weight category."
Mr Farrell said he is allowed "a ten minute break for food, stretching and going to the toilet. To row non-stop would be physically impossible".
He added: "I train six times a week and I row competitively at weekends at different regattas all over the country. I'm also training with five, six, seven, eight hours non-stop."
His world record attempt starts on 1 July outside the Holiday Inn, Brayford, Lincoln.