Donna Nook wetland flooding plan approved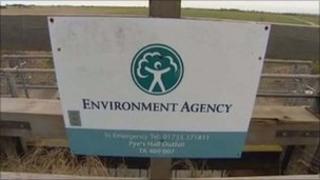 A scheme to flood 300 acres of farmland in Lincolnshire has been approved by council officials.
The Environment Agency wants to allow the sea into Donna Nook, North Somercotes, as replacement wetland for habitats lost to flood defences nearby.
East Lindsey District Council planning committee approved the application at a meeting on Thursday.
The authority had rejected the plan last June following strong local opposition to the loss of land.
'Substantial evidence'
It has since approved the application following changes to planning guidelines.
The Environment Agency said it was obliged to replace wetland habitat lost to the wider Humber estuary flood defence programme.
A spokesman for the district council said: "Following proposed changes to regional planning policy and progress with the Shoreline Management Plan, the Environment Agency resubmitted its planning application for land at Donna Nook to East Lindsey District Council.
"In light of the proposed policy changes and the progress with the Shoreline Management Plan, the original objections are no longer considered to have sufficient weight to defend our decision at appeal.
"We realise that there is strong feeling in the local community about this application but as the local planning authority any decisions we make must be based on sound planning grounds, backed up by substantial evidence."