Most Lincolnshire schools 'open' during strike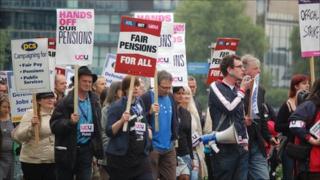 The majority of Lincolnshire's schools have been "operating as normal" during the national public sector strike, according to the county council.
The county has approximately 330 schools, more than 40 of which have informed the authority they would be fully or partly closing for the day.
However, the council stressed that some schools might not have contacted them.
Teachers and civil servants across England and Wales are striking over planned pension changes.
Among those taking part in the 24-hour action were members of the National Union of Teachers (NUT) and the Association of Teachers and Lecturers (ATL), who say the proposals will mean them working longer and paying more.
The NUT said it expected 85% of schools in England and Wales to be closed or partially closed but Department for Education data suggests that 11,114 of the 21,500 state schools in England were hit by the walkouts.
Ian Stevenson, regional NUT secretary, said the impact in Lincolnshire was comparatively low partly because of the rural nature of the county.
"It's a similar reason to why you get different political opinions. Lincolnshire is a very rural county, while South Yorkshire has a long history of trade union activism.
"There are bound to be variations up and down the country in response to the call to strike action. But we are expecting overall something approaching two thirds of schools being closed in authorities (across the country) and that's fairly widespread."
William Farr Comprehensive at Welton - one of the largest schools in Lincolnshire - is closed, but head teacher Paul Strong said he believed staff should be able to protest despite the disruption caused.
"These people have a perfect right to express their views in lawful and legal industrial action. It's part of what we call a democracy and thank god we live in it," he said.
Debbie Barnes, assistant director of children's services at Lincolnshire County Council, said: "It is the responsibility of individual schools to arrange and reorganise staffing in the case of strike action.
"Schools have been made aware of the council's policy on industrial action and we are providing advice where necessary.
'Attacks against us'
"Some flexibility will be expected by the schools in order to provide continued education for as many pupils as they can."
Across the country, tens of thousands of civil servants and other workers are also on strike.
Nik Parker, president of the Lincoln and District Trade Unions Council - which has organised a picket line outside the Jobcentre on the city's Orchard Street - said a cross-section of workers were taking part.
"Jobcentre Plus staff, people who work in call centres, HMRC staff, immigration officers, coastguards, various different people," he said.
"We expect that the vast majority of our members are going to support this action because of the scale of the attacks against us."
The prime minister has insisted the pension changes would secure affordable pensions for decades to come.
The government said reforms were necessary because as people live longer the cost of funding public sector pensions was "unsustainable".