Bees delivered to Lincoln Prison's community farm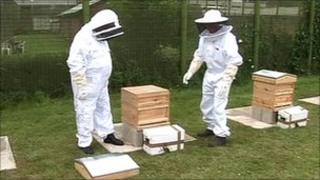 A city farm project at Lincoln Prison has taken delivery of bees to the six-acre site next to the prison.
The bees are the first animals to arrive at the farm, which will grow produce to be used in the prison and also to be sold to the local community.
Lincoln Prison governor Ian Thomas said the farm allowed the prisoners to "give something back to the community".
As part of the project prisoners will be working outside the prison after a "stringent assessment", Mr Thomas said.
'Better equipped citizens'
"The local community will also get the opportunity to use the facility as it develops," he explained.
"There is also the knowledge that we are trying to skill prisoners up and make them better equipped citizens so that when we release them they are less likely to re-offend."
Prisoners will be able to work towards farming qualifications as part of the work. The farm will be taking on livestock in the future including chickens, pigs and sheep.
Mr Thomas said it was important to focus on the farm itself and not the prisoners.
"We want it to be the city farm where the attraction is for people to come and visit the farm for what it is.
"The fact that it happens to be in a prison, we don't want that to be the main attraction, we want it to be that it's a city farm that the local community can enjoy."