Protests at Lincolnshire council care homes meeting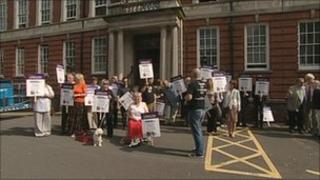 Five care homes in Lincolnshire will close in September despite protests from carers and staff.
The county council has said it cannot afford to upgrade the respite care homes to modern standards and wants the private sector to provide the service.
Families and union staff attending a meeting of the council's executive claimed standards of care would suffer.
During the meeting, one member of the public was asked to leave after repeatedly heckling councillors.
Three other homes are set to shut early next year when alternatives are found.
Officials have said the homes, which provide day care, short-term residential care for people coming out of hospital and respite cover, would cost £1m each to refit.
An attempt to have the homes taken over as going concerns had been unsuccessful, they said.
But unions and families have claimed the private sector does not provide the same back up services, such as occupational therapy.
Jobs lost
John Sharman, Lincolnshire branch secretary of local government union Unison, said: "What strikes me about the report which is going to the executive is that it is notable for its disregard.
"Its disregard for the public and service users who have clearly said they want to continue using the homes that exist now.
"Its disregard for its staff and its preparedness to throw 300 people out of their jobs.
"And its disregard for what is happening in the market with social care."
Councillor Graham Marsh, from Lincolnshire County Council, said: "The claim is that people have said clearly that they want to stay with the council-run homes.
"I think this is mainly because people don't like change and we are aware of that.
"But in areas where there aren't any council care homes, people who are accessing respite care are doing it through the private sector and have been doing so successfully for years."
The homes closing are: Linelands in Nettleham, Bonner House in Sleaford, Harrison House in Grantham, The Cedars in Gainsborough, Park View in Lincoln, Ingelow Manor in Boston, Halmer Grange in Spalding and Crowtree House in Louth.