Bishop's House in Lincoln is to be sold to save money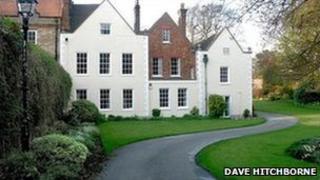 The Church Commissioners is to sell the official residence of the Bishop of Lincoln to save money.
The current Bishop's House in Eastgate costs £10,000 a year to heat and needs about £300,000 worth of building work to make it habitable.
The incoming bishop, the Venerable Christopher Lowson, will instead live in a five-bedroom house nearby.
He will be the first bishop for at least 50 years to live away from the Grade I-listed building.
'Symbol of power'
Max Manin, Chief Executive of the Diocese of Lincoln, said: "The incoming bishop, Christopher Lowson, has often spoken of his belief that bishops should live more simply and is very happy to have a slightly more modest house.
"But the decision has been made by the Church Commissioners and he isn't involved in the process at all," he said.
"The house used to be a symbol of power and status, but it's a long time since that has been the case.
"And whoever buys it will need to spend a considerable amount of money because it is literally falling apart.
"In terms of expenditure you would be looking at a figure of more than £300,000."