Ray Clemence gets honorary degree at Lincoln Cathedral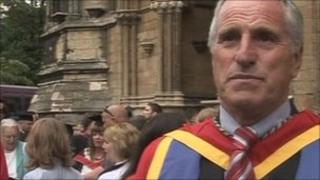 Former England goalkeeper Ray Clemence has been awarded an honorary doctorate by a Lincolnshire university.
Mr Clemence, who was born in Skegness, has been given the degree by Bishop Grosseteste University College.
He was presented with the award at the university's graduation ceremony held at Lincoln Cathedral on Wednesday.
The 62-year-old, who began his career at Scunthorpe, said it was a "special day for everyone".
"I am proud to be associated with the tradition and future of Bishop Grosseteste University College as an honorary graduate.
"I did pick up a lot of silverware during my career but that was a long time ago.
"So it's nice that 30 years after I retired people still remember and I get offered this."
He added: "It's great to see so many people studying sport, many of whom will ultimately go on to work with or teach children and bring on the next generation of sports people."
Mr Clemence transferred from Scunthorpe to Liverpool in 1967 for a fee of £18,000 and went on to win 61 England caps and made 665 appearances for the Reds before moving to Tottenham Hotspur.