Lincoln homeless centre is named after the Nomad Trust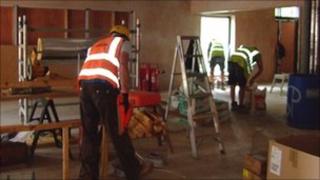 A new centre to provide help for homeless people in Lincoln has been named in recognition of the work carried out by a local charity.
The £2.5m centre, on Beaumont Fee in Lincoln, has been named the Nomad Centre after the Nomad Trust who have been in operation since 1984.
Nottingham based charity Framework will run the building with the Nomad Trust providing street outreach work.
The charities hope the first beds will be ready before the end of the year.
'Life changing'
Peter Richardson, outreach support worker for the Nomad Trust, said: "We've been providing emergency accommodation for over 20 years but now working with Framework we can offer the whole package.
"Being able to give the support we are going to offer them in this building is going to be life changing."
Mark Turner, who found himself homeless in February and has used the Nomad Trust, said the new centre was "fantastic" and needed for helping homeless people.
The project has been funded by national housing agency Homes and Communities, Lincolnshire County Council and the City of Lincoln Council.