Businesses reopen after Boston industrial explosion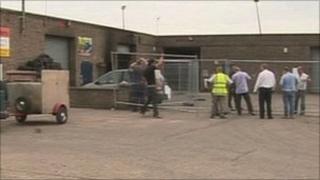 Business in a Lincolnshire town have been allowed to reopen after being forced to close following an explosion in which five men died.
The five Lithuanian men, who lived in Peterborough, were killed in a fire in an industrial unit on Broadfield Lane in Boston on 13 July.
Lincolnshire Police found evidence to suggest the unit was being used to illegally brew alcohol.
Car parts business owner Richard Dilley said it had been a tough week.
"Nobody's been able to do anything for a week so obviously no business, no money," said Mr Dilley.
"Times are hard at the moment and a week of getting no money in has not helped at all."
It is thought Vaidas Krupenkinas, 39, Laimutis Simkus, 32, Ovidijus Mejeris, 26, Ricardas Gecas, 24, and Erlandas Duzinskas, 18, died instantly in the blast.
A sixth man survived after suffering 75% burns. He underwent surgery at the Queen Elizabeth Hospital in Birmingham where he remains in a critical but stable condition.
'Back to normal'
Mick Cooper, from Mick's Motors, also on Broadfield Lane Industrial Estate, said the closure had caused major disruption.
"Customers who were bringing their cars in for repair, we've had to postpone," said Mr Cooper.
"But we've just got to carry on, get back to normal as soon as possible."
The unit where the explosion happened has now been cleared and items for evidence removed.
Police said they had found chemicals on the premises which "tended to indicate either the manufacture or production of alcohol".
They said they had dealt with illegal alcohol production in the area earlier this year when six stores in Boston were found to be selling isopropyl alcohol, used as a solvent and cleaning fluid.
Boston Borough Council's licensing committee revoked the alcohol licence of one store and suspended another. Action is due to be taken against the other four.