Lincolnshire ambulance response times 'do not look good'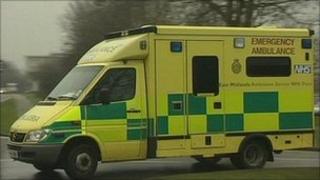 East Midlands Ambulance Service (EMAS) bosses in Lincolnshire are to be quizzed over poor ambulance response times.
It follows a review of services last year, by the county health scrutiny committee.
Committee chair, Councillor Christine Talbot said the figures "do not look good" compared to the rest of the East Midlands.
EMAS medical director Dr James Gray said to hit targets "was a challenge".
"They don't just sit on ambulance stations - we locate them strategically to maximise our ability to respond in the eight minutes," he said.
"If you get two calls in the same area at the same time, that can put challenges on the system."
EMAS bosses have been summoned before the scrutiny committee, on Wednesday.
The national target for response times under eight minutes is 75% but in Lincolnshire it is 72%. The target for response times under 19 minutes is 95% but in Lincolnshire only 86% are meeting the required standard.
Hospital hold-up
EMAS have previously said ambulance crews were being held up at hospital accident and emergency departments.
Sarah Muncey, from Sibsey near Boston, told BBC Lincolnshire her mother was taken to Pilgrim Hospital where she was left in a corridor on an ambulance bed still under the care of paramedics: "They were just standing in a corridor, just queued up. There must have been about seven crews there in the end, two of each.
"I said how long is this going to take and they just looked at me and laughed and said this is nothing unusual. We're always like this. We've been here a lot longer than this at different times. Which I don't disbelieve.
"There were no cubicles free, no beds, no trolleys. We got there about ten and it was about midnight that I got into a cubicle."
In a statement the United Lincolnshire Hospitals NHS Trust said: "We recognise that handover times at A&E in hospitals across the East Midlands region have an effect on the response times of the East Midlands Ambulance Service and we are working with EMAS and other partners such as social services and Lincolnshire Community Health Services to ensure we can receive patients into A&E in a timely manner.
"We apologise to Mrs Muncey for the delay she experienced. We are currently putting several measures in place to ensure any unnecessary delays are avoided."