Rob Hazelwood keeps it in family with water-ski record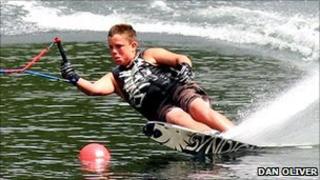 The latest member of a Lincolnshire water-skiing family to make his mark on the sport has broken the British under-12s slalom record.
Rob Hazelwood, 12, set a new best for going around three buoys on a 13m line.
His cousin is Will Asher, the world number one for five years, and his uncle, Mike Hazelwood, was the world jump and overall champion in the 1980s.
Rob, whose family runs a water-ski centre near Lincoln, was introduced to water-skiing at an early age.
He says he has been water-skiing since not long after he learned to walk and spends most of his free time on the water.
'Felt fantastic'
"I just absolutely love skiing," he said.
"The feeling of speed, with the air rushing past me.
"When I broke the British record it just felt fantastic."
Slalom skiing involves crossing from one side of the lake to the other six times, reaching speeds of about 70mph.
Each time the skier has to brake to a stop, lie practically flat on the water and go around a buoy, using their upper-body strength to stand back up.
After another pass of the lake the process is repeated.
On each pass down the lake the rope between the boat and the skier is shortened, until the skier falls in.
The winner is whoever manages to get around the most buoys, with the shortest length of rope.