Business partnership to promote Lincoln starts work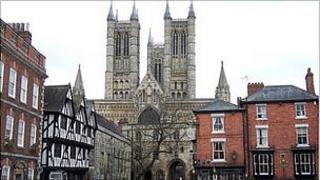 A Lincoln group set up to promote the city following the collapse of the government-funded Visit Lincolnshire, has officially begun work.
Members of the Bailgate Guild formed the Visit Lincoln Partnership (VLP) with the city's chamber of commerce and Lincoln Business Improvement Group.
Visit Lincolnshire folded after the withdrawal of £650,000 in funding.
Emma Tatlow from VLP said it was important for the local economy to keep promoting the city.
More than 100 businesses were set to attend a launch event at The Collection on Thursday afternoon.
Lincolnshire County Council and the East Midlands Development Agency both cut their funding to Visit Lincolnshire, which promoted the entire county, in early 2011.
Mark Hollingsworth of the Bailgate Guild said: "We decided Lincoln really needs promoting as a destination on its own - we think promoting Lincoln is something we need to do now."