Visitor numbers to Lincolnshire's churches still rising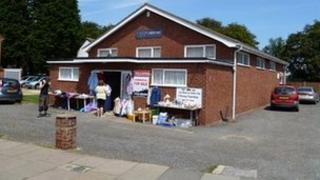 Several churches in Lincolnshire are having to build extensions or move to larger premises to accommodate increased congregations.
Back in 2007 the Diocese of Lincoln had the largest growth in average weekly church attendance outside of London.
Whilst that figure has gone down since, BBC Lincolnshire has found several churches which are still growing.
The increase is across different denominations, including Methodist and the Ground Level Network.
The New Day Christian centre in Skegness, which is part of the Ground Level Network, is one church that is having to move to a bigger building.
Pastor David Middleton said: "I came here nearly two years ago and we were around 35 people on a Sunday morning.
"Now we're hitting anywhere between 70 and 90 people."
Diverse communities
Nearby, the ACCess Church in Alford has been transformed into a community hub with a café, and a range of activities, which include IT classes.
Pastor of Alford Community Church, Mark Rowe , said the vast majority of activities are community based.
"We're working with the schools to take young people who have difficulty in school and we're providing alternative education here."
Other Lincolnshire projects aimed at getting better use from church buildings include The ArChWay Heritage Churches Project, an initiative to get more artists and community groups to use Grade l and ll listed buildings - a scheme that was launched by TV presenter Lloyd Grossman.
Fourteen churches in the county were offered as venues to stage exhibitions and for groups to meet.
But not all churches in the Diocese of Lincoln are enjoying the same success, with six closing in the past ten years.
The Archdeacon of Stow and Lindsey, the Venerable Jane Sinclair, said: "I'd say generally it's not as bad as many people believe - we look after well over 650 churches, so it's really not very many.
"One reason why churches close is because the population has moved."
Pete Atkins, chair of Churches Together, said it was about the church engaging with people as they are now.
"We need a mixed economy of what has been there for centuries and fresh ideas," he said.