Petition against Sleaford level crossing closure plan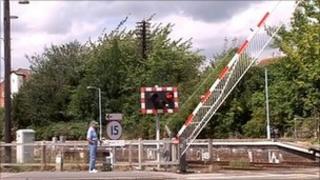 More than 2,400 people have signed a petition opposing moves to close a level crossing in a Lincolnshire town.
A district councillor opposing the move said residents were unhappy with a design for a footbridge and link road as it would hamper town centre access.
Network Rail wants to scrap the level crossing when a new Tesco store is built and replace it with a footbridge to boost safety.
Tesco would pay for the footbridge as part of the supermarket development.
Better flow
North Kesteven District Councillor Keith Dolby, who is opposed to the plans, said: "I think it would absolutely ruin the town centre.
"It's not just the shops that are in the town centre. It's the restaurants, the hairdressers, the doctors, the dentists, the lawyers, the banks."
A highways manager for Lincolnshire County Council said the link road, which would be between Marham Lane and Boston Road, "should improve traffic flows".
The project is not expected to be completed for another two years, although planning permission is needed before work can begin in the town.
A Sleaford Town Council spokesperson said if the works go ahead the level crossing closure should be only temporary for a trial period.