Welton church too small to accommodate its congregation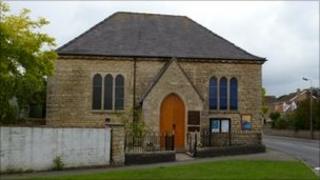 A village church in Lincolnshire has become so successful it relies on some of its congregation being on holiday to accommodate everyone.
Welton and Dunholme Methodist Chapel, near Lincoln, was built in 1815 and has a maximum capacity of 70 people.
The church regularly gets more than 60 people on a Sunday and does not have enough seats for special celebrations.
Peter McCree, from the church's development committee, said the church hoped to expand to make more room.
He said: "Over the past few years we've been looking at the possibilities of how we could develop either this building or look elsewhere for new premises."
Growing congregations
One reason for the growing congregation is that the church is used by a number of community groups and some of these then come along to services, said Mr McCree.
"Our mission statement is that we serve God by serving the community.
"We have two mid-week children's groups, a youth club, a film club and the U3A (The University Of The Third Age) regularly use our premises and so we get lots of people into our church through other activities."
The original building was expanded in the 1980s and is already right at the edge of its property boundary, Mr McCree said.
Mr McCree said: "There is no more physical space for us to expand on this site at the moment.
"Ideally we would like bigger premises - if some of the people are not on holiday we haven't got the room to seat all of them."
The church recently purchased the property next door, which it hopes to develop into a new church building.