Boston Pilgrim Hospital student nurses to return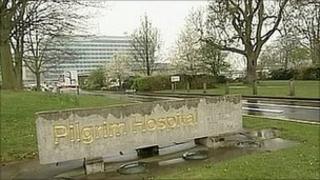 Student nurses and midwives will return to Boston Pilgrim Hospital after more than 80 were withdrawn in June over concerns over the learning environment.
The Nursing and Midwifery Council (NMC) withdrew 80 students from the hospital on 28 July.
The students will be allowed back in a "phased return" after a meeting between the council and health officials.
The Royal College of Nursing said it was still not clear why they were taken out in the first place.
The NMC said earlier the move was due to "serious concerns" with the learning environment at the hospital.
'Explanation' needed
In June the hospital was criticised by the Care Quality Commission (CQC), which said it had not met required standards in 12 of 16 categories.
Police have confirmed a separate inquiry is continuing into reports of mistreatment of patients by a member of staff.
A NMC spokesman said it would not comment further on the reasons behind the withdrawal of the students.
A statement issued after the meeting between the council and East Midlands Strategic Health Authority, United Lincolnshire Hospitals NHS Trust and the universities involved said: "New practice placements have already been provided for all students withdrawn on 28 July.
"Alternative arrangements are also being made for new students starting courses in September, though most will not in fact be in practice placements before early 2012."
A further meeting is planned for mid-October to review progress.
The students from the University of Nottingham, the University of Lincoln and The Open University were moved to other hospitals in Nottingham and Mansfield.
The Royal College of Nursing's East Midlands operations manager Cliff Edwards said: "The statement still fails to explain to the students and staff at Pilgrim what those issues and concerns are which warranted this unprecedented removal of students, and what the future action plan will be."