Boston Pilgrim Hospital improvements needed: CQC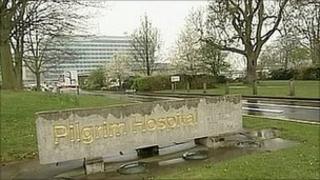 There are still concerns about standards of care at a Lincolnshire hospital, an independent watchdog has found.
The Care Quality Commission (CQC) has released a new report, following a highly critical review of Boston's Pilgrim Hospital earlier this year.
The CQC inspection said "improvements are needed" at the hospital.
While it acknowledged there had been some improvements, there were still areas of concern.
A major concern is the management of medicine.
Staff praised
The report said: "There are not sufficient arrangements in place for the obtaining, recording, handling, using and safe administration of medicines.
"A number of concerns had been brought to our attention about the prescribing and administration of sedative medicines known as benzodiazepines.
"These drugs are used in a variety of situations but can be used to sedate people if they are confused and agitated."
Inspectors also found that patients were at risk of inappropriate or unsafe treatment, because individual care plans were not detailed enough.
And some patients were at risk of dehydration because records were not always properly maintained, the report found.
However, inspectors praised the attentiveness and care of hospital staff and their efforts to meet nutritional needs of patients.
In a statement, the United Lincolnshire Hospital NHS Trust said: "We have worked closely with the CQC to ensure that we provide the very best care to all our patients.
"We welcome the commission's conclusion that there have been significant improvements at Pilgrim Hospital and we will ensure that progress continues.
"However, we recognise that there are still issues that need to be addressed and we have plans under way to achieve this."