Skegness Surf Rider fairground ride 'to be removed'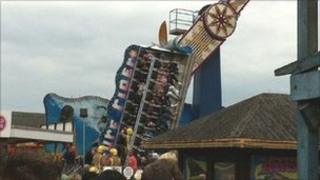 A fairground ride which became stuck in mid-air, leaving 22 people stranded, is to be removed, says the site's owner.
Seven people were taken to hospital after being rescued by firefighters from the Surf Rider on Grand Parade in Skegness, Lincolnshire, on Tuesday.
Three remained in hospital on Wednesday but were expected to be released soon.
Jim Botton Jr, who owns and runs Botton's Pleasure Beach, called the incident "every park manager's worst nightmare".
He said: "The park has remained closed today to allow a full and detailed inspection to take place.
"The pleasure beach has operated in Skegness for 46 years and the rides are inspected by some of the most highly qualified and regarded specialists in the country.
"We also have an onsite maintenance team who check the rides everyday to ensure they are safe to operate.
"The Health and Safety Executive will produce a report on their findings in due course.
"The ride will now be made structurally safe before being removed from the site in the next few days. We don't intend for it to return.
"I regard this as the blackest day in the pleasure beach's history."
'Really rare'
Mr Botton also thanked the emergency services for helping rescue and treat those stranded, and said he wished anyone who had been injured "a full and fast recovery".
The Surf Rider's carriage, which swings people around 360 degrees, is meant to remain in a horizontal position but became stuck vertically.
Firefighters from Skegness, Spilsby and Wainfleet used a hydraulic platform along with "man power and a rope" to rescue the riders one by one.
James Gilbert, from East Lindsey District Council, said: "We need to remember this is really, really rare.
"We hope the people involved in this incident are OK. It's really sad that this has happened but Skegness, the Lincolnshire coast and all rides like this across the country can still be used safely."