Family tribute to Skegness lake death boy Kai Game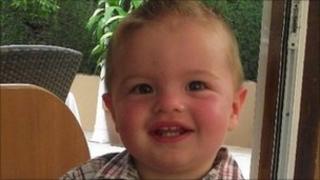 The parents of a 19-month-old Cambridgeshire boy whose body was found in a lake at a Lincolnshire caravan park have paid tribute to their son.
Kai Game, from Peterborough, died after falling into a lake at Skegness Water and Leisure Park on Saturday.
His parents PC Neil Game, 34, and Tammy Game, 35, a prison officer, were pitching a tent when he wandered away.
The couple said in a statement that his death has left them feeling "devastated and numb".
Mr Game pulled his son from the lake and made unsuccessful attempts to resuscitate him before paramedics arrived.
The toddler was pronounced dead at Boston's Pilgrim Hospital.
"We miss him so much," his parents said. "Reality itself hasn't really sunk in yet. We can't imagine him not coming back.
"It couldn't have happened to a more loving and caring child - it's awful.
"It just happened so quickly, in seconds, and we hope it acts as a warning to other parents because we wouldn't want anyone else to go through something like this."
The toddler's funeral is being held in Peterborough on 20 September.