East Lindsey District Council in solar panel energy bid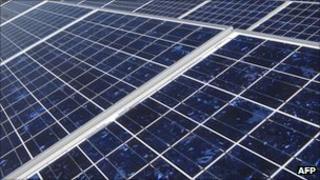 A Lincolnshire council is planning to install solar panels on some of its buildings in a bid to cut energy costs.
East Lindsey District Council said the project would cost £498,000, but would be paid back in less than 10 years.
It said it hoped to make more than £1.5m over the next 25 years through energy savings and exporting excess electricity to the National Grid.
The buildings earmarked for the project included the Embassy Swimming Pool and Embassy Theatre, in Skegness.
Planning permission
Panels will also be fitted to the roofs of the Meridian Leisure Centre and London Road Sports Ground, in Louth, and the Horncastle Swimming Pool, in Horncastle.
The council said by generating its own electricity, more than 62 tonnes of carbon dioxide (CO2), a gas which contributed to global warming, would be prevented from entering the atmosphere.
Leader of the Council, Doreen Stephenson, said: "This invest to save measure will enable us to reduce our revenue expenditure on energy each year and make more than three times the initial investment over the project's lifetime."
Subject to full council approval, in November, and planning permission, it is hoped that energy can be produced by March next year.