Campaigners object to plan for former Lincoln dairy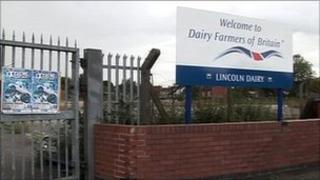 Campaigners in Lincoln have objected to plans on the site of a former dairy that include a supermarket, mosque and 40 houses.
The Boultham Residents' Association said it was concerned about a possible increase in traffic in the Boultham Park area.
The plans are part of proposals led by the Lincoln Co-operative Society.
Banks, Long and Co, agents for the Co-operative, said it was told the junction could cope with the traffic.
'More traffic'
Chartered surveyor Peter Banks said the commercial part of the development would result in some traffic, but added that when the site was used as the dairy it was full of cars, vans and articulated lorries at all times of the day and night.
Jean Flannery from the Boultham Residents' Association said: "There will be a great deal more traffic."
She said a planning inspector informed the group last year that "just a mosque in this area would bring an unacceptable amount of traffic at certain times".
"With the supermarket as well on the site, which will want to attract as many customers as possible, it's just going to be unbearable," she added.
The city council will consider the plans at a meeting on 24 October.