Boston's River Haven footbridge designs go on show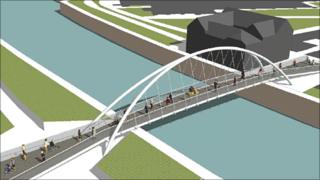 Three designs for a new footbridge across a Lincolnshire river have been released by the county council.
The new £600,000 Boston footbridge will replace the St Botolph's Bridge across the River Haven, which is a key route for pedestrians.
County council engineers have said while the old bridge remains safe to use, structural defects have been found which means it needs replacing.
A public consultation on the proposed designs ends on 14 October.
The options will be on display at the Len Medlock Centre on 14 and 15 September and published on the Lincolnshire County Council website.
Craig Otter, an engineer with the structures team at Lincolnshire County Council, said: "We think it's very important.
"It's an opportunity to replace the existing footbridge with something more suitable to the surroundings and to enhance the area."
Lincolnshire Council said it would take the public feedback into consideration before it makes a final decision.
Work on the new bridge is expected to start in mid-2013 and completed by the end of the year.
It will be jointly funded by the council and a European Union grant.