Asylum seekers protest at Morton Hall in Lincolnshire ends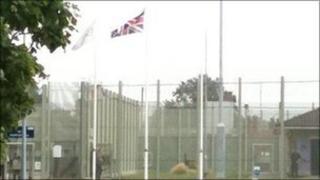 A hunger strike by 18 Afghani asylum seekers in Lincolnshire has ended, a Ministry of Justice spokesman has said.
The men started their hunger strike on Friday at Morton Hall immigration centre near Lincoln over concerns that they would be sent back to Afghanistan.
"No-one is on hunger strike now - all the asylum seekers are eating and in good health," the spokesman said.
The 18 men had access to health workers and the UK Border Agency would talk to them about their concerns, he said.
Peaceful surrender
A Ministry of Justice statement said: "A peaceful protest involving a number of detainees began at approximately 9.20am on Friday 16 September at Morton Hall Immigration Removal Centre and ended during the early hours of Saturday.
"There were no injuries to staff and the detainees peacefully surrendered."
Morton Hall was formerly a women's jail and was turned into an immigration removal centre earlier this year.
The UK Border Agency said it would only return people to Afghanistan if they did not need protection.