Residents concerned over cat attacks in Skellingthorpe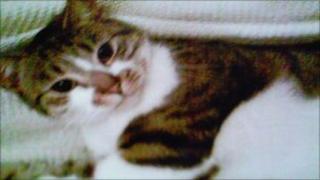 Pet owners in a Lincolnshire village are concerned for the safety of their animals after an increasing number of incidences of cruelty.
Residents in Skellingthorpe near Lincoln have reported several cases of cats being shot, poisoned or mistreated.
Cat owner Shirley Robson said one of her cats was found dead in a neighbour's garden.
She said four-year-old Arnie had been shot through the heart.
Evil people
"I was mortified to learn from the vets that they had found an air pellet which had gone straight through his pericardium (the membrane around the heart) - he would have died instantly," she said.
Another cat owner, Gill Baker, said two of her cats had returned home soaked - she was told that someone had been trapping the cats in a cage and pouring cold water on them.
"I wouldn't even call them human beings to be honest - they are evil, why would anybody want to do this to any animal - it's just beyond belief," she said.
Penny Craig, from Lincoln Cat Care, said she was aware of several cases of cats being shot.
She said: "It's not just in Skellingthorpe, from time to time there seems to be a spate of it and then it stops for a while."
Lincolnshire Police said it was taking these incidents very seriously.
"These incidents have been investigated and house-to-house enquires have been carried out.
"We are aware that cats are often much loved pets and part of the family," a police spokesman said.
The RSPCA said that anyone with information about these incidents should contact either the police or the charity's cruelty line.