Lincoln Cathedral defends hiring first woman chorister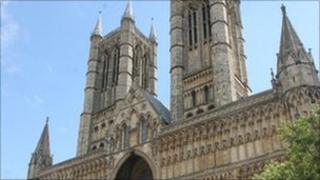 Lincoln Cathedral has appointed a female chorister for the first time in its 900-year history amid criticism that it is defying tradition.
Helen Vincent, 22, an alto chorister, was awarded a scholarship by the cathedral who called her "a great addition to the choir".
A cathedral spokesman said the purpose of the choir was to "deliver the best music with which to glorify God".
A national choir group said it was "dispirited" about the decision.
Dr Peter Giles, from the Campaign For The Traditional Cathedral Choir, said: "It is important to realise that it is an art form which happens to be all male, that's all.
'Best voice'
"And it's not always easy to get male altos, but I understand in this case that they didn't worry too much about that and appointed a woman anyway.
"It is dispiriting because the tradition will not last."
The cathedral's chief executive, Phillip Hamlin Williams, said: "I think people don't like change.
"The thing that we hold close is the need to have the best possible music to glorify God," he said.
"We received numerous applications and she was the best - if you receive excellent applications you are going to choose the best voice irrespective of the sex."
He said Lincoln is not the first British cathedral to have a woman chorister as the cathedrals in Edinburgh and Peterborough already have women members in their main choirs.
The cathedral's director of music, Aric Prentice, said, "Helen Vincent, who has sung at Leeds Roman Catholic Cathedral, has a most lovely voice and will be a great addition to the choir."