Lincoln Uni students may be in cabins until Christmas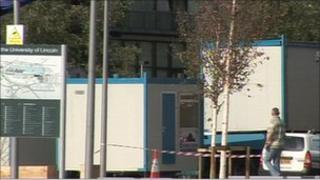 Some students could be living in portable cabins at the University of Lincoln until Christmas.
About 160 first-year students have been housed in two temporary 'villages' because of a shortage of accommodation.
The cabins were brought when the university struggled to find new arrivals somewhere to live after "higher-than-normal housing requests".
Permanent accommodation places were being secured on a daily basis, it said.
A spokesman for the University said: "As a response to a last minute surge in demand for accommodation, resulting largely from a significant increase in the proportion of new students from outside the region seeking our help, the university has created temporary student accommodation on campus.
"Many universities require latecomers to source their own housing, but we were aware that there was limited availability in the private shared housing sector and wanted to offer a temporary option to facilitate people being in the city for Welcome Week."
The statement added: "We now have two temporary student villages which will mean that everyone who wants it will be able to have single occupancy accommodation from Monday.
"We are securing permanent places for people on a daily basis and will have moved everyone out of the temporary accommodation by Christmas at the latest - although we expect much sooner."
The university also said it held a meeting with more than 120 students and the students' union on Thursday night, and was taking action on points that were raised.
More bins were being provided and fencing erected to allow more privacy, it added
A "kitchen cabin" for students was also being considered.
The union said this was "not what students signed up for", but that the way forward was to work with the university rather than against it.